The Shire: Glendalf's Guide to Cultivating Your Future Self
by

Dr. Glen
(5.00 from 1 review)
By Glen Swartwout The Shire is a real place, and it really is in Middle-earth, on the verdant slopes of the most active volcano on the planet. This book is the visionary founder's introduction to the magic and mystery of the location and the potent elemental energies it brings to life. Glendalf offers an insightful look at some of the follies of modern culture, and solutions from Elven science.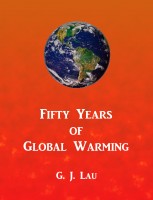 Fifty Years of Global Warming
by

G. J. Lau
(4.00 from 1 review)
These 65 essays reflect my personal journey to understand the three modern-day horsemen of the apocalypse who stalk mankind: climate change, peak oil, and population growth. What I found was not reassuring. But don't take my word for any of this. Study the issues. Make up your own mind. Then think about preparing your kids to live in a very different world from the one they see around them today.
Related Categories