The Shire: Glendalf's Guide to Cultivating Your Future Self
(5.00 from 1 review)
By Glen Swartwout The Shire is a real place, and it really is in Middle-earth, on the verdant slopes of the most active volcano on the planet. This book is the visionary founder's introduction to the magic and mystery of the location and the potent elemental energies it brings to life. Glendalf offers an insightful look at some of the follies of modern culture, and solutions from Elven science.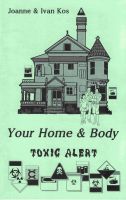 Your Home & Body Toxic Alert
As a human being and a citizen of planet Earth you have some of the most basic rights: 1. Right to live. 2. Right to breathe pure air. 3. Right to drink pure water. 4. Right to eat natural and uncontaminated food. If you cannot breathe pure air, drink pure water and eat pure food anywhere on this planet, how can you claim to be free?