Low Back Pain Program. Effective Targeted Exercises for Long Term Pain Relief.
by

Sherwin Nicholson
(4.83 from 6 reviews)
A Comprehensive, Step by Step, Exercise, Treatment Plan for Long Term Pain Relief. Regain and Develop Mobility, Strength and Flexibility to Return to a Back Healthy Lifestyle. This fully illustrated, instructional, exercise guide, teaches 45 safe and easy exercises, movements and stretches specifically designed for relieving lower back pain. Over 170 detailed illustrations to guide you carefully.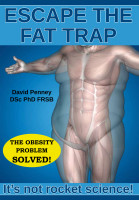 Escape the Fat Trap: It's Not Rocket Science!
by

David Penney
This book provides all the information needed to set anybody on the road to achieving a great physique in a relatively short period of time. It is not complicated because it does not need to be. As the title states, 'it isn't rocket science!' There are four main elements that combine to make the program effective: Mindset, Nutrition, Progressive Strength Training and Rest.
Related Categories