Low Back Pain Program. Effective Targeted Exercises for Long Term Pain Relief.
by

Sherwin Nicholson
(4.83 from 6 reviews)
A Comprehensive, Step by Step, Exercise, Treatment Plan for Long Term Pain Relief. Regain and Develop Mobility, Strength and Flexibility to Return to a Back Healthy Lifestyle. This fully illustrated, instructional, exercise guide, teaches 45 safe and easy exercises, movements and stretches specifically designed for relieving lower back pain. Over 170 detailed illustrations to guide you carefully.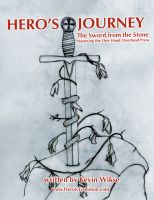 Hero's Journey: The Sword from the Stone.
by

Kevin Wikse
(5.00 from 3 reviews)
This book will take you on a journey... a journey not just of mind and body, but spirit and flesh, might and magic. A Hero's Journey! This is a story of initiation and transformation; YOUR story of initiation and transformation. You will BECOME Arthur, endure his trials of pulling the sword from the stone and through fearless, unyielding effort you will claim YOUR own heroic destiny!
Related Categories