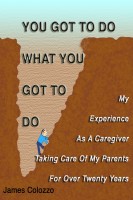 You Got To Do What You Got To Do
by

James Colozzo
My experience as a caregiver taking care of my parents for over twenty years. During this time we went through hundreds of doctors visits, multiple medical procedures and hospital stays. This is a collection of these situations, procedures and techniques. It was a life changing experience that affected me forever.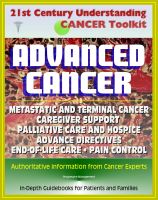 21st Century Understanding Cancer Toolkit: Coping with Advanced Cancer - Metastatic Cancer, Caregiver Support, Palliative Care and Hospice, Advance Directives, End-of-Life Care, Pain Control, Grief
by

Progressive Management
This massive guide, with over 600 pages and 23 chapters, has authoritative information and practical advice from the nation's cancer experts about advanced cancer, with valuable information for patients, families, and caregivers about every aspect of metastatic disease.
Related Categories