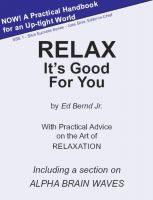 Relax It's Good for You
by

Ed Bernd Jr.
A practical guide for an uptight world. Don't let stress become distress and ruin your life. Tension can hurt your health, hamper your relationships, curtail your ability to concentrate and learn, lower your productivity and creativity and problem solving ability, and undermine your self-confidence and happiness. Includes practical tips and guidance to reduce the tension and stress in your life.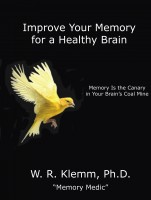 Improve Your Memory for a Healthy Brain. Memory Is the Canary in Your Brain's Coal Mine
by

W. R. Klemm
Authoritative, well researched and documented, this book provides in-depth explanations on topics such as brain aging, relationships of memory with other brain functions, how to reduce absent-mindedness, the diseases of aging, and diet and supplements. The author, a neuroscientist and teacher for over 50 years,explains practical application of research-based ideas for improving memory.
Related Categories