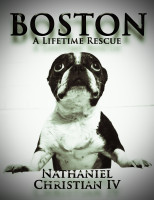 Boston: A Lifetime Rescue
by

Nathaniel Christian IV
In his eighth rendition, Boston, author Nathaniel Christian IV seduces readers with a riveting account of dog adoption in this intimate anecdote about a beloved Boston Terrier named Roxy.
Expectations: A True Adoption Story
by

Tony Bertauski
I write fiction. I make up stories. This is not one of them. This is all true. Some minor details have been altered and names changed, but the story itself is true. At some point, you won't believe it. Hell, I don't believe some of it and I was there. I never planned on writing about it until I did. It's a story about crises. It's about resolution, about life prevailing. It's about adoption.
Related Categories