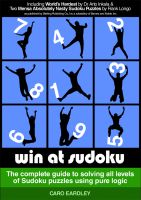 Win at Sudoku (The complete guide to solving all levels of Sudoku puzzles using pure logic)
(5.00 from 1 review)
~~ FREE Sudoku Puzzle Book included ~~ "Win at Sudoku will help people at any level, even a starter. The detailed step by step walk through of example puzzles takes you by the hand from simple to "ridiculously" hard at a pace that is appropriate for experienced Sudoku solvers." - M. Markland (MA USA) Think you can't play Sudoku? Wish you didn't keep getting stuck? Dream of consistently winning?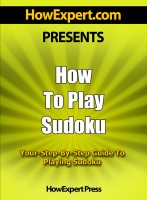 How To Play Sudoku - Your Step-By-Step Guide To Playing Sudoku
- Be familiar with the the game rules. - Learn the basic way of doing Sudoku. - Get useful tips in solving Sudoku puzzle. - Be able to solve Sudoku puzzle in the shortest time possible. - Learn how to appropriately choose a candidate. - Solve different levels of Sudoku puzzle. - Amaze your friends and family to your new found hobby of playing sudoku.