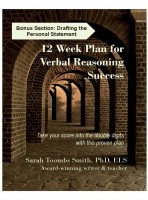 12 Week Plan for Verbal Reasoning Success
by

Sarah Toombs Smith
(5.00 from 2 reviews)
12 Week Plan for Verbal Reasoning Success is a proven plan to raise your Verbal Reasoning score when you take the MCAT examination. It helps you understand the test and understand what you need to do to score in the double digits. Others have used it to shorten their learning curve and spend less time being confused and more time getting better at the skills the test aims to measure. Why not you?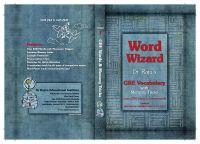 Word Wizard : GRE Vocabulary With Memory Tricks
by

Prasad Raju V V N R Pathapati
(5.00 from 1 review)
Welcome to the Dr Raju's world of Memory tricks that introduce proven techniques into vocabulary learning experience.In this book approximately 2000 words with Vocabulary Memory tricks are designed for anyone wishing to build a stronger vocabulary. However, they are particularly recommended for students studying for Scholastic Aptitude test (SAT), and Graduate Record Examination (GRE), and TOEFL.