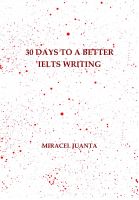 30 Days to a Better IELTS Writing
by

Miracel Juanta
30 Days to a Better IELTS Writing provides helpful tips and strategies to the struggling IELTS writer. It has 69 IELTS writing essays complete with feedback based on IELTS criteria. It also has tips to aid the IELTS students such as the 7 highly ineffective habits of IELTS test takers, the best books in IELTS and resources for IELTS. It would surely improve the band score of students.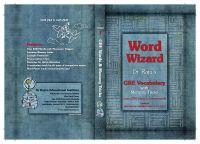 Word Wizard : GRE Vocabulary With Memory Tricks
by

Prasad Raju V V N R Pathapati
(5.00 from 1 review)
Welcome to the Dr Raju's world of Memory tricks that introduce proven techniques into vocabulary learning experience.In this book approximately 2000 words with Vocabulary Memory tricks are designed for anyone wishing to build a stronger vocabulary. However, they are particularly recommended for students studying for Scholastic Aptitude test (SAT), and Graduate Record Examination (GRE), and TOEFL.