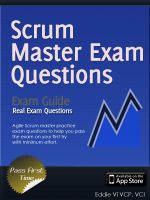 Agile ScrumMaster Exam Questions
ScrumMaster Exam question contains actual exam question as used office examinations. Becoming a member of a Scrum team can be a daunting prospect and being asked to serve as the team's ScrumMaster can be downright intimidating. You've got an idea of what Scrum is and have read a few articles or books on the topic, but you really don't know how to go about putting that theory into action.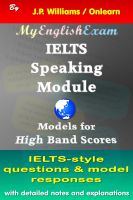 IELTS Speaking Module: Model Responses for High Band Scores
This IELTS Speaking Module eBook is an essential resource for IELTS candidates preparing for the Speaking Exam. It contains 35 Part 1 and Part 3 examiner questions and 50+ full candidate responses, plus three full Part 2 Speaking Tasks with highly-detailed replies and commentary. All candidate responses for Parts 1, 2 & 3 are followed by detailed notes, comments & recommendations.