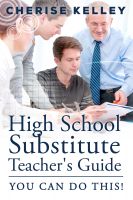 High School Substitute Teacher's Guide: YOU CAN DO THIS!
by

Cherise Kelley
"You're a high school substitute? Are you crazy? We were so mean to them!" This is a common reaction when I tell people what I do, but I love substitute teaching at the high school level. In writing this book, I hope to be for you the friend I was blessed to have when I started. I tell you not only how to get a job as a substitute teacher, but also how to do the job so well you enjoy it.
From English Teacher to Learner Coach
by

Daniel Barber

&

Duncan Foord
Help your students get motivated, get organised and get practising! From English Teacher to Learner Coach is for EFL teachers who want successful students, not just successful lessons. More than ever, English learners have opportunities to become competent English users, but they need support to make the most of them. In other words, they need a coach. Give your teaching the coaching twist!
Related Categories