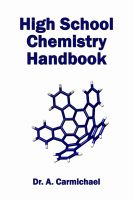 High School Chemistry Handbook
by

Angus Carmichael
(5.00 from 3 reviews)
This second edition covers the topics met in high school chemistry courses. The succinctly written units contain comprehensive explanations supported by diagrams and worked examples. The final section of the book holds useful reference material for experimental work and offers guidance on how to write laboratory reports. Also included are practice questions with solutions and a glossary of terms.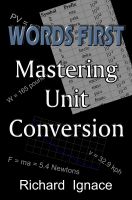 WORDS FIRST: Mastering Unit Conversion
by

Richard Ignace
Unit conversions refer to the sometimes annoying, occasionally tricky, but ultimately necessary process of attaching proper words with proper numbers to get right solutions in science and engineering tasks. For students taking courses in science, getting these right translates to points and grades. This short "how to" manual leads readers through the process of doing unit conversions correctly.
Related Categories