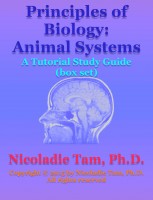 Principles of Biology: Animal Systems: A Tutorial Study Guide (box set)
by

Nicoladie Tam, Ph.D.
"Principles of Biology: Animal Systems" is a part of the Principles of Biology course series textbooks. It is a tutorial written in questions and answers format. It is a study guide with in-depth explanations. Each section is a modular unit that is self-contained for easy reading. The principles and concepts are introduced systematically so students can learn and retain the materials intuitively.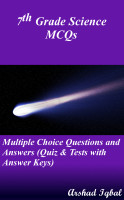 7th Grade Science MCQs: Multiple Choice Questions and Answers (Quiz & Tests with Answer Keys)
by

Arshad Iqbal
7th grade science MCQs has 2277 multiple choice questions. Grade 7 science quiz questions and answers pdf, MCQs on general science, electric circuits, electrical circuits, electric currents, digestive system, atoms, atom model, molecules and ions, class 7 science MCQs with answers, dispersion of light, elements, compounds and mixtures, energy resources, forces effects, heat transfer quiz & MCQs.
Related Categories