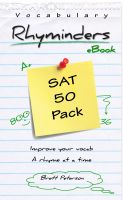 SAT Vocabulary Word Rhyminders: 50 Rhyme Pack
Improve your vocabulary a rhyme at a time with Vocabulary Rhyminders: SAT 50 Pack. This eBook includes creative and memorable rhymes for 50 vocabulary words likely to appear on the SAT exam. Don't spend countless hours in front of a dictionary when there is a better alternative. Pick up Vocabulary Rhyminders and enjoy the process of learning new words.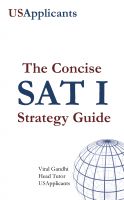 USApplicants The Concise SAT I Strategy Guide
Stuck on Sentence Completions? Annoyed with Algebra? Our guide contains powerful strategies designed to boost your SAT I Score. Written by an instructor with a 99th percentile SAT score, our concise guide will explain how the test works, what question types are featured and what strategies can be used to most efficiently improve your scores on every section.