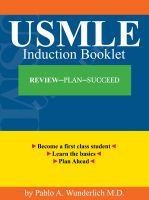 USMLE Induction Booklet
by

Pablo Andrés Wunderlich M.D.
Hello, dear colleague. I'm pleased you're reading this Induction booklet, because it means that you are willing to enter the battle against the USMLE with more force than ever. Learn the basics to defeat your ultimate foe--the USMLE: Focus-Balance-Success.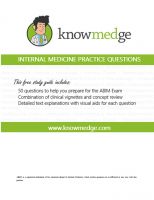 Knowmedge Internal Medicine Practice Questions
by

Knowmedge
This study guide contains 50 practice questions to help you prepare for the Internal Medicine Board exam. Questions include the following topics: Cardiovascular Disease, Endocrinology and Metabolism, Gastroenterology, General Internal Medicine, Hematology, Infectious Disease, Nephrology/Urology, Oncology, Neurology, Dermatology, Pulmonary Disease and Critical Care, Rheumatology/Orthopedics.