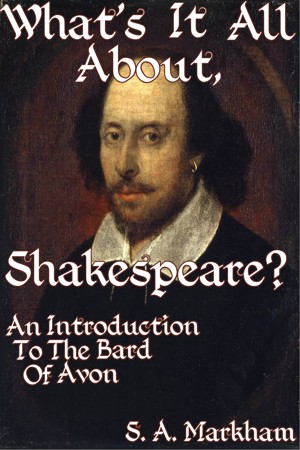 What's It All About, Shakespeare? An Introduction To The Bard Of Avon
by

S. A. Markham
(5.00 from 2 reviews)
What's It All About, Shakespeare? is a series aimed at demystifying Shakespeare's work. This first instalment, 'An Introduction to The Bard of Avon' offers a short biography of the world's most famous playwright, an introduction to his works and a guide to understanding them. Think Shakespeare's boring? Think again.
The No Nonsense Guide to Novel Writing
by

Mark Gordon
(4.00 from 1 review)
Learn the tricks that will make writing your novel a faster and more enjoyable experience. Author Mark Gordon shares the tips and secrets you won't find in other creative writing books. Mark's no nonsense advice will motivate you to get your novel finished with a minimum of fuss. Tips include "How Do I Start?", Brutal Facts That Will Make You a Better Writer", and "How To Think Like a Writer."
Related Categories