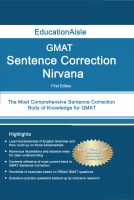 GMAT Sentence Correction Nirvana
"Sentence correction" questions on GMAT often evoke apprehension among test takers. This is because there is no credible source that provides foundation of English Grammar, explains specific concepts covered in GMAT and substantiates those concepts with real-life official examples. This book provides all these and much more, and will serve as the only source required to master GMAT SC!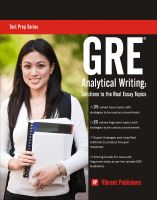 GRE Analytical Writing: Solutions to the Real Essay Topics
The material in this book is intended to help you prepare for the Analytical Writing section of the revised GRE test. During the test, you will be asked to respond in writing to two different types of prompts. One, Analyze an Issue, requires you to follow specific directions as you take a position on a statement, claim, or recommendation.