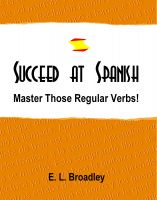 Succeed at Spanish: Master Those Regular Verbs!
(5.00 from 1 review)
Verbs can be tough! The aim of this book is to make the use of regular Spanish verbs as easy and as intuitive as possible in everyday conversation. This ebook provides short to medium-length sentences for beginners/improvers and longer, more complex sentences for intermediate/advanced Spanish speakers.