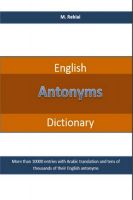 English Antonyms Dictionary
An English Antonyms Dictionary contains more than 10000 entries with Arabic translation and tens of thousands of English antonyms. This book is very helpful to the EFL pupils learning English as a foreign language especially in the Arab countries.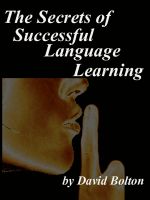 The Secrets of Successful Language Learning
This E-Guide offers sound, practical advice on how you can acquire excellent pronunciation, expand your vocabulary, master grammar, and converse in another language. You will find suggestions that are often very unconventional, yet always effective. Whether you are a beginner, or advanced student: if your goal is to truly master a foreign language, then this book is for you!