Financial Markets and Institutions MCQs: Multiple Choice Questions and Answers (Quiz & Tests with Answer Keys)
by

Arshad Iqbal
Financial markets and institutions MCQs has 538 multiple choice questions. Financial markets quiz questions and answers pdf, MCQs on capital markets, world stock markets, stock valuation, money markets, bond markets, foreign exchange markets, mortgage markets, introduction to financial markets MCQs with answers, business valuation, security valuation, bonds valuation, financial markets MCQ & quiz.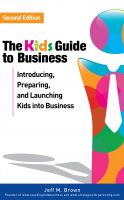 The Kids' Guide to Business
by

Jeff M. Brown
This book provides a kid-friendly approach to introduce, prepare, and launch kids into business. Kids take steps to develop a business and are easily engaged in business as they explore business basics and advanced business principles using the lemonade stand business case. Many business principles are taught from this simple business model of a roadside kiosk.
Related Categories