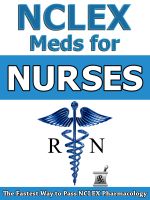 NCLEX Meds for Nurses: The Fastest Way to Pass NCLEX Pharmacology
(5.00 from 8 reviews)
How can you study for NCLEX pharmacology fast? Introducing your latest and best medication ebook with review questions: you will find over numerous NCLEX questions and study over 28 medication drug classes. Developed by board certified nurse educators and reviewed by pharmacist. You will find that this is the fastest way for you to learn NCLEX pharmacology. Excellent practice questions.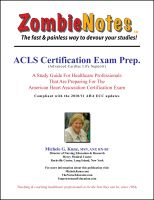 Zombie Notes ACLS Certification Exam Prep.
Updated for the new AHA ECC 2010-11 guidelines. This study chart, updated on 05/06/13, includes the most important information healthcare professionals must memorize to be successful on the American Heart Association (AHA) certification exam for Advanced Cardiac Life Support (ACLS). Many thousands of nurses and other healthcare professionals have used this study chart.