How I Learned
by

Shamus Young
(5.00 from 3 reviews)
This is an autobiography of an autodidact, a personal story of one boy's meandering path through the American educational system.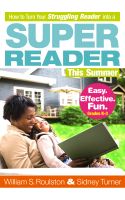 How to Turn Your Struggling Reader into a Super Reader This Summer
by

William Roulston and Sidney Turner
(5.00 from 1 review)
Parents whose children are reading below grade level will find this book a godsend. Two long-time reading teachers have simplified the mysterious process of learning to read. In twenty short lessons, they explain easy, effective and fun activities you can use to turn your child into an independent, lifelong super reader this summer. For children from kindergarten through 3rd grade.
Related Categories