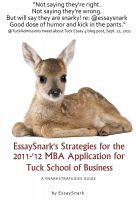 EssaySnark's Strategies for the 2011-'12 MBA Admissions Essays for Tuck School of Business
(5.00 from 2 reviews)
Tuck Business School, at Dartmouth College, is unique among the bschool uniques. Tuck is very small, very intimate, and very beautiful. It's also a darn good MBA education. If Dartmouth is the right bschool for you, then you need to work hard to prove that to the Tuck adcom. This SnarkStrategies Guide shows you how. Find out if your GMAT score is high enough.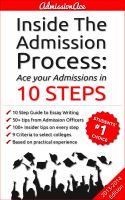 Inside the Admission Process: Ace your Admission in 10 Steps
(4.67 from 3 reviews)
The ultimate go-to guide for all students featuring insider tips, practical insight and a step by step guide to help you ace every part of the admission process. The latest edition includes 100+ Insider tips on every step, 50+ Tips from Admission Officers, 10 Step Guide to Essay Writing, 9 Criteria to select colleges 20 most likely interview questions, How to get 4 Types of Financial Aid and more!