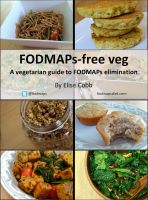 FODMAPs-free veg: A vegetarian guide to FODMAPs elimination
by

Elise Cobb
(4.60 from 5 reviews)
This ten day elimination plan is for those who have been prescribed to start a FODMAPs free diet. It's also for those who are health conscious, vegetarian, and/or vegan or looking to incorporate more plant based meals into their diet. At first diagnosis, I struggled with the overwhelming nature of FODMAPs so my hope is to ease the process for others with a straight forward plan and recipes.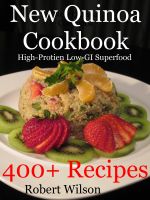 New Quinoa Cookbook: High-Protein Low-GI Gluten-Free Superfood Recipes
by

Robert Wilson
New Quinoa Cookbook is a collection of over 400 recipes that feature quinoa. There are recipes for Pasta Dishes, Meat Dishes, Poultry Dishes, Meatless Dishes, Casseroles, Soups & Stews, Pilafs, Salads, Breads, Breakfast, and Desserts. Although meat dishes are included, most of the recipes require no meat, making this an excellent source for High-Protein vegetarian and vegan recipes.