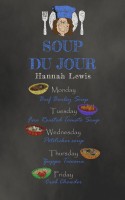 Soup du Jour
by

Hannah Lewis
Soups are comforting in any season. This book contains 20 delicious soup recipes. From classics flavors like Beef Barley Soup and French Onion Soup to exotic flavors like Chicken Coconut Curry Soup and Potsticker Soup. Pick your soup du jour!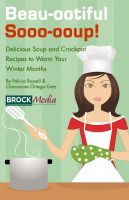 Beau-ootiful Soo-oop! Delicious Soup and Crockpot Recipes to Warm Your Winter Months
by

Brock Media
(5.00 from 1 review)
Making soup is simple and satisfying, especially when you follow our tips from expert chefs. And, for those with busy lifestyles, crockpots might just be answer. Enjoy these recipes including Curried Butternut Squash Soup with Roasted Red Pepper Sauce, French Onion Soup, Butternut Squash Purée with Fresh Ginger and Sautéed Apples, Albondigas Soup with Minted Meatballs and more.
Related Categories