Sub-categories:
Wedding planning and checklists | Bride preparation | Wedding customs | Groom preparation | Honeymoon planning | Locations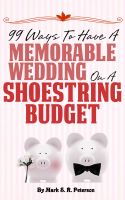 Debt-Free I Do: 99 Ways To Have A Memorable Wedding On A Shoestring Budget
The average wedding today costs between $20-$30K. But who says you have to be average? Inside this book are 99 ways to have your wedding on a shoestring budget. With these cheap and frugal ideas, ranging from photographers and caterers to wedding gowns and DJ services, your wedding can be both unique and memorable. Also included is a quick sample shoestring budget.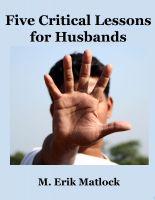 Five Critical Lessons for Husbands
Five Critical Lessons for Husbands is taken from the archives at ErikMatlock.com and Becoming a Better Man. This short book contains valuable information learned while salvaging a 20 year marriage, even after the divorce papers.