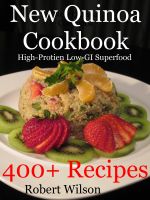 New Quinoa Cookbook: High-Protein Low-GI Gluten-Free Superfood Recipes
by

Robert Wilson
New Quinoa Cookbook is a collection of over 400 recipes that feature quinoa. There are recipes for Pasta Dishes, Meat Dishes, Poultry Dishes, Meatless Dishes, Casseroles, Soups & Stews, Pilafs, Salads, Breads, Breakfast, and Desserts. Although meat dishes are included, most of the recipes require no meat, making this an excellent source for High-Protein vegetarian and vegan recipes.
A Cookbook by Ted. Volume 2
by

Ted Summerfield
My second cookbook contains 38 new recipes, mainly from the late 1800's and early 1900's. Oyster stuffed halibut steak, Pineapple Pie, Fish liver pâté, Uncooked rosehip jam, Baked salmon with mustard-dill sauce, Macédoine salad, Sourdough applesauce cake, Almond and Raisin Sauce, and Broiled chicken marinade are some of the recipes in this cookbook. Enjoy.