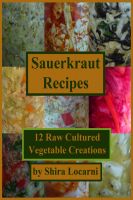 Sauerkraut Recipes, 12 Raw Cultured Vegetable Creations
by

Shira Locarni
This Sauerkraut Recipes book details everything I've learned from my over 15 years of raw cultured kraut making. You will receive 12 of my favorite recipes, plus 8 bonus recipes, and tons of information, tips and techniques that I personally use to make full proof jars of delicious raw cultured veggies that are naturally fermented not heat processed.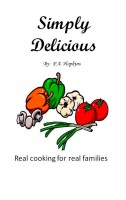 Simply Delicious
by

P.A. Hopkins
(5.00 from 1 review)
In this cookbook you'll find 90 recipes for good food that doesn't cost a fortune. All of the recipes came about because of a love of food. The recipes are measured to feed a family of five. This cookbook is a linked up book. At the end of each recipe a link will take you back to the table of contents. The recipe name in the table of contents will take you to the beginning of the recipe.
Related Categories