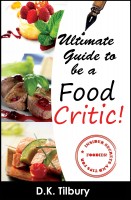 The Ultimate Guide for How to be a Food Critic!
by

D.K. Tilbury
(4.00 from 1 review)
Would you love to be paid to eat and travel? Learn simple, insider secrets on how to be a food critic…even if you're a beginner! An interactive and practical guide on how to live your dream of being a food critic – jam packed with food writing tips and fun exercises, which means you will pick up the essential skills by 'doing', not just reading.