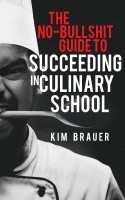 The No-Bullshit Guide to Succeeding in Culinary School
by

Kim Brauer
This is a practical, no-bullshit guide to thriving in culinary school and using it to launch into a professional cooking career. From basics like how to pull your kit together, all the way to ninja-level tactics like building a SWAT team and ensuring you're one of the students your instructors want to mentor – this book offers you step-by-step strategies for kicking ass in culinary school.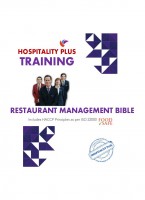 RESTAURANT MANAGEMENT BIBLE
by

Chef Dhir
The Hospitality Plus Restaurant Management Training Bible gives you every detail and all the information and techniques you need to follow in Running a Restaurant Successfully. It is an All in One Book on Restaurant Management for Managers and Restaurant Owners who either run the restaurant themselves or finance a restaurant.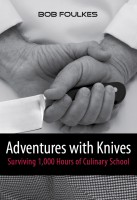 Adventures with Knives, Surviving 1000 Hours of Culinary School
by

Bob Foulkes
Staring down a milestone age, Bob Foulkes was not content to experience life from the comfort of his easy chair. 60 years old, semi-retired, restless, and yes, bored, Bob was ready for his next adventure when he enrolls in a 6 month culinary program — 1,000 hours of intensive training in the art of classical French cooking. This behind the scenes account is humorous, eye-opening and inspiring.