Afghan Cuisine - Jay Rai's Kitchen
In this delightful ebook you will find that Afghan food is tasteful fusion of the regions that neighbor Afghanistan. Major ethnic groups are Pashtuns, Tajiks and Uzbeks. Modern Afghan cuisine is the blending of the cooking methods of the cooking methods of the three. Influence of India in the use of spices like saffron, coriander, cardamom and black pepper.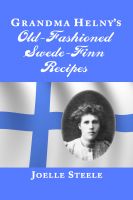 Grandma Helny's Old-Fashioned Swede-Finn Recipes
In 1906, Helny Andersdotter Furu Forstrom Steele came from a small town in Finland to an American rural community in Rochester, Washington. She brought with her a collection of old recipes, which have been translated and assembled into this ebook.