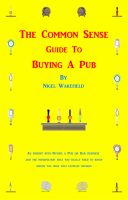 The Common Sense Guide to Buying a Pub
by

Nigel Wakefield
in depth information on what you need to do and put in place if you are considering buying a pub, bar, bistro or an inn. who to consult, financial, business, staff, suppliers and a range of other requirements. gaining experience, qualifications etc. viewing properties as businesses, not a scenic life style change, far too many inexperienced pub buyers make this basic error, many to their cost.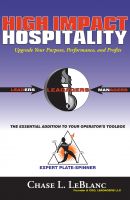 High Impact Hospitality
by

Chase LeBlanc
Ken Blanchard, co-author of The One Minute Manager says, Chase LeBlanc is a veteran of the restaurant management industry. His expert advice will kick start your journey toward improving your value as a manager. High Impact Hospitality is a fresh and enjoyable read." The book provides a detailed and highly entertaining blueprint for improving your performance and value as a hospitality manager.