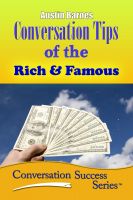 Conversation Tips of the Rich & Famous
by

Austin Barnes
Some are rich and famous because of their parents. Some through incredible talent. Others use hard work and good conversation tips. Here are Conversation Tips I've seen the rich and famous use. They helped me dramatically improve my conversation skills.
6 Tips That Would Enhance Your Customer Service Career
by

Kelechi Okeke
Do you work in customer service? Get valuable tips and practical advice that impact very positively on your career. This book reveals valuable tips that give you a significant edge over your peers, and guide you on your path to becoming a recognized professional not just in your place of work, but in the customer service industry as well.