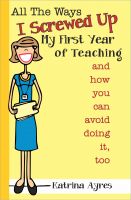 All the Ways I Screwed Up My First Year of Teaching and How You Can Avoid Doing It, Too
(5.00 from 1 review)
Veteran teacher Katrina Ayres showcases her disastrous first year of teaching in rural Hawaii. Somehow her teacher training didn't prepare her for The Monster Copier, Matthew the Plane-Hurler, and 80-hour workweeks. At the end of each chapter, she explains where her New Teacher Self went wrong and offers time-saving, practical hints and tricks you don't learn in teacher college.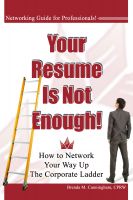 Your Resume is Not Enough: How to Network Your Way Up the Corporate Ladder
Guide to Professional Networking! You know you want more out of your career or business, but have no idea how to get there. You have been told to have your resume ready and to network. But you don't know how to accomplish this. And how could you? This book addresses why, how, and with whom to network! Stop submitting hundreds of resumes and start networking your way to career success!