Graduate Jobs: An Emergency Guide
by

Sally Burr
This book is the guide I wish I had when I graduated. This ebook will help you with the aftershock of graduating, giving you solid ground to work out your next step whether that is working, travelling, more study or something else entirely.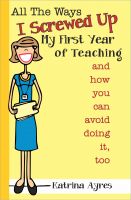 All the Ways I Screwed Up My First Year of Teaching and How You Can Avoid Doing It, Too
by

Katrina Ayres
(5.00 from 1 review)
Veteran teacher Katrina Ayres showcases her disastrous first year of teaching in rural Hawaii. Somehow her teacher training didn't prepare her for The Monster Copier, Matthew the Plane-Hurler, and 80-hour workweeks. At the end of each chapter, she explains where her New Teacher Self went wrong and offers time-saving, practical hints and tricks you don't learn in teacher college.
Related Categories