Business Planning for Editorial Freelancers: A Guide for New Starters
(5.00 from 5 reviews)
Published in association with The Publishing Training Centre, this practical guide takes new freelance proofreaders and copyeditors through the basics of planning their business. Chapters focus on the different aspects of editorial freelancing, training, client focus, getting experience, financial assessment, promotion, networking, tools for the job and real-world case studies.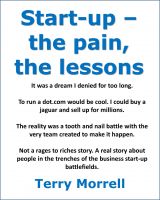 Start-up - the pain, the lessons
It was a dream I denied for too long. To run a dot.com would be cool. I could buy a jaguar and sell up for millions. The reality was a tooth and nail battle with the very team created to make it happen. Not a rags to riches story. A real story about people in the trenches of the business start-up battlefields.