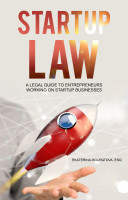 Startup Law. A Legal Guide for Entrepreneurs Working on a Startup Venture.
by

Ekaterina Mouratova
Startup Law was written to help entrepreneurs navigate the incredibly complex legal system. The book covers a broad range of subjects that can arise during each stage of business life cycle, It discusses the legal aspects of formation and structuring the companies, founders issues, employments matters, including equity compensation, financing the business, intellectual property, and other topics.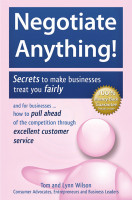 Negotiate Anything! Secrets to Make Companies Treat You Fairly
by

Tom & Lynn Wilson
"Negotiate Anything!" is the culmination of a 30 year longitudinal study of customer service -- a first. It is authored by a husband and wife team. It has two audiences. For consumers, it presents secrets to make companies treat them fairly so they get their money's worth. For businesses, it teaches them how to pull ahead of the competition by providing excellent customer service.
Related Categories