More Banker's Insights on International Trade - Student Edition Rev 2011
by

Roy Becker
(5.00 from 1 review)
Lessons from practical experience about international trade of particular interest to international busines students. The book contains true stories to illustrate how to mitigate risk and improve cash flow for importers and exporters. Roy delivers extremely useful and sometimes complex international trade information in an easy to follow entertaining manner. Includes discussion questions.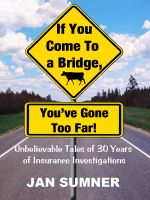 If You Come To A Bridge, You've Gone Too Far!
by

Jan Sumner
(5.00 from 1 review)
This is a compilation of humorous, interesting and hard to believe tales from over thirty years of conducting insurance inspections on unsuspecting and unbelievable businesses. Whoever said, "You can't make this stuff up", had this adventure in mind.