Economics for Smart Citizenship
by

Mikel Cohick
This book helps people understand the economics that affect them in their daily lives: learning, working, earning, future planning, running a business, penetrating the macroeconomic fog of the media and politicians, and being good citizens. It describes the decision-making process as people try to better themselves and how to set up a society for maximum betterment of its citizens.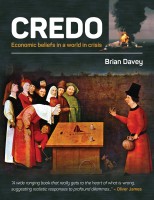 Credo – Economic beliefs in a world in crisis
by

Brian Davey
Originally part of moral philosophy, economics is a 'gospel' that human problems can be traced back to 'scarcity', with salvation in efficiency, competitive markets, specialisation, technology and growth. In the contemporary world this guiding faith in the pursuit of growth is crashing against ecological boundaries. The economic system is caught in a Catch 22.
Related Categories