Economics for Smart Citizenship
by

Mikel Cohick
This book helps people understand the economics that affect them in their daily lives: learning, working, earning, future planning, running a business, penetrating the macroeconomic fog of the media and politicians, and being good citizens. It describes the decision-making process as people try to better themselves and how to set up a society for maximum betterment of its citizens.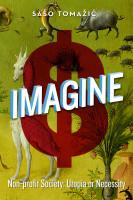 Imagine Non-Profit Society: Utopia or Necessity
by

Sašo Tomažič
(5.00 from 2 reviews)
The book can be considered as a guideline to a better, more just and stable society. Professor Sašo Tomažič writes to speak to us on a high plane of enthusiasm but in a simple language about many of the globally pertinent themes: productiveness and unemployment, the profit-generating capital and the crises it procures non-stop, be it in the human or the environmental sphere.