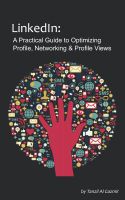 LinkedIn: A Practical Guide to Optimizing Profile, Networking & Profile Views
by

Tanzil Al Gazmir
Profile Optimization: An excellent profile can help you to get jobs, clients, contracts, partners, vendors, investors etc. Networking: You will be amazed to see in how many ways you can network and generate leads. These are all simple, practical and doable. Maximize Profile Views: There is a simple math – the more people view you profile, the more opportunities you will get.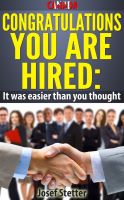 Canada, Congratulations You Are Hired: It was Easier than you thought
by

Josef Stetter
This is the ultimate resource guide to help anyone in any industry find a job they love. The book offers links to all sites to find work, links to employment agencies/recruiters, custom resumes, cover letters, thank you letters, most interview questions that are not pure technical and how to answer any interview question with the 7 rules to a WOW interview that GUARANTEES results! Go get hired!