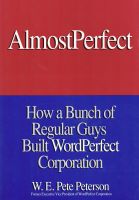 Almost Perfect: How a Bunch of Regular Guys Built WordPerfect Corporation
by

Word Place, Inc.
(4.00 from 1 review)
The fascinating inside story of WordPerfect Corporation's rise from rags to riches, straight from the man who ran the company. In 1980 Pete Peterson was hired as the $5-an-hour part-time office manager by a fledgling software company. That company because WordPerfect Corporation, and Peterson quickly because Executive Vice President.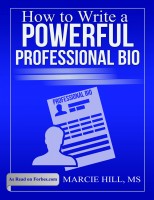 How to Write a Powerful Professional Bio
by

Marcie Hill
(5.00 from 1 review)
Are you doing wonderful things at work, at home and in your community? Do you have a professional biography that reflect these good works? If you do not have a bio, then this eBooklet is for you. It teaches you how to write a powerful bio that spotlights who you are, what you do and how you serve others.
Related Categories