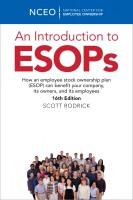 An Introduction to ESOPs, 16th ed.
by

The National Center for Employee Ownership (NCEO)
This book explains the rules, uses, benefits, and other aspects of employee stock ownership plans (ESOPs). An ESOP is a benefit plan through which employees can become owners in their companies at no cost to themselves, at the same time that the company and its owners receive major tax benefits. ESOPs are commonly used to buy out owners of closely held businesses but have many other applications.
Related Categories