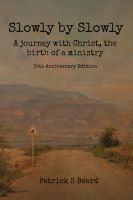 Slowly by Slowly
by

Patrick Beard
Growing up in a small Mississippi town Patrick dreamed of being a missionary to some exotic far away place. Through a series of disappointments, illness and heartbreak he was compelled to follow a narrow path. This would-be adventurer was being called to die to himself and live in Christ.
Rusty Woomer's Journey From Death to Life
by

Patricia Althoff Bridewell
This is an adaptation, by permission, from a chapter in Charles Colson's book, THE BODY. It is the true story of two men's salvation and their intertwining lives. It has been prepared to be effective in Jail / Prison ministry, and contains a tract written by Rev. Thomas L. Shelton. Proceeds go directly toward printing for donation to prison ministries.