Revolted
by

Jean-Nichol Dufour
(5.00 from 1 review)
This is part 1 of a 10 books suite. In this one I explore different points of views expressing the revolt and frustration of the character at living in the current reality. The subject mostly turns around his personal life while attacking the sources of his problems. It is an initiation to his vision of things too, so the difference between idologies is explained right away.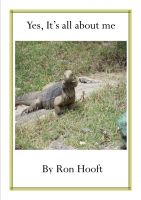 Yes, it's all about me
by

Ron Hooft
(5.00 from 1 review)
Yes, it's all about me, is a biography of a man and his quest for enlightenment through the 1960s and 70s. It is written in the first person as dictated to me by a modern shaman. You may be surprised by what he discovered on his life long quest.