Tales of a Mossy Heart
A collection of unique short stories bound together by love. Each story has a different subject such as bullying, alienation, slavery, homosexuality and of course love. And just like life itself, the happy endings are few in number but not in significance. Some of the stories are autobiographical while others draw the reader into a vivid yet concise fantasy where anything is possible.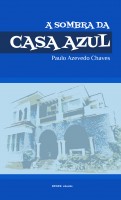 À Sombra da Casa Azul: Breve itinerário de Vida
À Sombra da Casa Azul, para nós que conhecemos intimamente a história de Paulo Azevedo Chaves, faz com que nos envergonhemos de participar de uma sociedade que pode guilhotinar talentos e promover embustes com a mesma desenvoltura de um Tartufo ou Paingloss.