Hollywood Loves Me: From Navy Lieutenant to Hollywood Assistant
by

Sandra McDonald
The journey from Navy officer to Hollywood assistant is no easy road to follow. Chasing a dream, former lieutenant Sandra McDonald finds herself filling out Michael Eisner's expense reports, picking up dog poop for an A-list Oscar winner, and standing in a limo line next to Sting. Now an award-winning author, she recounts her Hollywood years with humor and grace.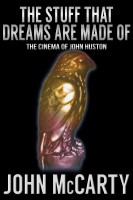 The Stuff That Dreams Are Made Of: The Cinema of John Huston
by

John McCarty
An excellent survey into the career of John Huston, the actor, screenwriter & director with an informative, entertaining text. Huston's screenwriting credits feature many mega-hits such as "The Maltese Falcon"; "Sergeant York"; "High Sierra"; "The Killers"; "Jezebel"; "Murders in the Rue Morgue" among the few. But, he is best known for directing "The Maltese Falcon".
Related Categories