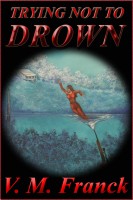 Trying Not to Drown
by

V. M. Franck
(5.00 from 1 review)
On a rainy night while his neighbors watched Billy Graham on television, my brother Ken stood outside their living room window, raised his hunting rifle and fired. Four victims and two houses later he was arrested for murder, thrusting my family and me into horror. Viewed through time-laced lenses this is an honest account of what happened to him, my sister, our loving parents and especially me.

A Checkered Past
by

William Van Poyck
(5.00 from 4 reviews)
Miami native William Van Poyck- burglar, bank robber, escape artist, and novelist - pens a sweeping, vividly sketched autobiography guiding readers on an unforgettable, four-decade odyssey, from barefoot youth to reform school to death row. Projected through the lens of raw experience, this is a brutally authentic look into the hardscrabble underbelly of America's criminal justice system.
Related Categories