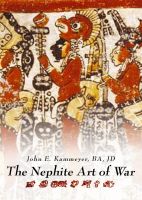 The Nephite Art of War
by

John Kammeyer
This book examines the Book of Mormon's claim to be an ancient text. It contains essays discussing the Old World and Mesoamerican social contexts of the Book of Mormon, its politics, military organization and doctrine, geopolitics, weaponry, and logistics. Also Book of Mormon concepts of war as compared with Sun Tzu and Clausewitz. The Book of Mormon appears to be a genuine ancient text.
Warfare in Mesoamerica: Battles in the Book of Mormon
by

John Kammeyer
This book derives from The Nephite Art of War and attempts to show how Nephite military doctrine was put into practice. This narrative focuses on the half dozen most important commanders in the Book of Mormon and their decision-making. What were their perceptions and options? How and why did they decide as they did, and what were the consequences?