Sub-categories:
Sacred writings | Rituals & practice | Theology | History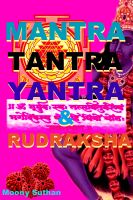 Mantra, Tantra, Yantra & Rudraksha
by

Moony Suthan
Yantra is an instrument, or a talisman or a mystical diagram usually in copper. It is a technique or path, considered the simplest and shortest, through which one can attain one's desires, and fulfil one's wishes. It is said that the 'Deities' reside in the Yantras.